Displaying items by tag: Hintze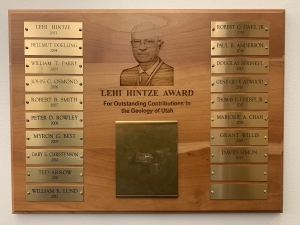 Every year, the UGA, in collaboration with the Utah Geological Survey and geology departments from several Utah universities, selects a geologist for their outstanding contributions to the geology of Utah. The criteria for "Outstanding Contributions to the Geology of Utah" is intended to be interpreted broadly and to include all areas of the geosciences. Nominations typically include a letter of nomination
with details of the individual's "Outstanding Contributions". This may include a CV, letters of support, testimonials, etc. Please send your nominations to the State Geologist .
Here are the past years awardees:
| | |
| --- | --- |
| Awardee | Year |
| Lehi Hintze | 2003 |
| Hellmut Doelling | 2004 |
| William T. Parry | 2005 |
| John C. Osmond | 2006 |
| Robert B. Smith | 2007 |
| Peter D. Rowley | 2008 |
| Myron G. Best | 2009 |
| Gary E. Christenson | 2010 |
| Ted Arnow | 2011 |
| William R. Lund | 2012 |
| Robert Q. Oaks, Jr. | 2013 |
| Paul B. Anderson | 2014 |
| Douglas Sprinkel | 2015 |
| Genevieve Atwood | 2016 |
| Thomas C. Chidsey, Jr. | 2017 |
| Marjorie A. Chan | 2018 |
| Grant Willis | 2019 |
| David Simon | 2020 |